Home
/
Open Events
/
Open Day for People with Disabilities: Saturday 30th June 2018
Open Day for People with Disabilities: Saturday 30th June 2018
The RVYC is holding its annual Open Day for People with disabilities on Saturday June 30th 1030-1630.
Owing to a change in the law relating to what personal information can be gathered and how it is stored, we are changing the way we do the registration process.

First of all, please can you fill in the registration form below stating how many places you would like.
Secondly, can you download the RVYC health form 2018 which you will find below.
This is designed to be filled in either on your computer using Adobe Acrobat Reader DC, Fill & Sign, then printed. Alternatively print and completed by hand.
This year we would like you to bring the health form with you on the 30th June. We will seal it in a waterproof pouch which will be kept by you. This way the information is available if needed and isn't held by the RVYC.

Nearer the time, we will contact you with the final details of the day.
Thank You,
Ann Capps,
RVYC Open day organiser
---
2017 Open Day
With flags fluttering on a sunny day, the Royal Victoria Yacht club in Fishbourne opened its doors on Saturday 8 July 2017 for its yearly open day for people with disabilities. We have a long-standing tradition of inviting people with disabilities to enjoy a day at the RVYC, dating back to 1981 when the late Betty Matthews organised the first event to mark the International Year of Disabled Persons.

This year, over 140 guests ranging in age from four to 90 enjoyed the day and managed over 60 trips out on The Solent. Over 11 boats were used - for the thrill seekers on fast RIBs that went to Osborne Bay, to a Drascombe gig pottering up and down Wootton Creek. The longest waiting list was for 'Spirit of Scott Bader' – the Disaabled Sailing Association's specialist wheelchair-carrying yacht which supports the event every year. It was a magnificent sight to see this catamaran in full sail with so many smiling faces on board.
Shoreside, guests were treated to a BBQ, ice-cream, tea and cakes while music was provided by Bob's Basement Band. Gailforce and her team in the Club Galley were also supplying endless food, including a vegetarian choice or a full fish and chip lunch for those that wanted it. The tombola was as popular as always, and the table was practically cleared of wine, cakes, ornaments and toys by the end of the day
The Commodore, Steve Sheridan welcomed local dignitaries – High Sheriff, Ben Rouse and Mrs Lia Rouse, Lord-Lieutenant Major-General Martin White and Mrs White, and MP, Bob Seely. They commented on what a strong community-led event the Club had put on.
The quote of the day from one of the guests ´"I look forward to this day every year, it's the best day of my year. If the Queen were to invite me to a garden party on this day, I'd have to drop her a quick note to say I couldn't attend because I'm going sailing!".
The organising committee of Ann Capps, Rosemary Montero and Nigel Talbot were supported by over 90 volunteers onshore and the owners, skippers and crew of 11 boats lent by members and community organisations on the water. The RVYC is indebted to event donors including The Daisy Rich Trust, PGL, Minghella's and Wightlink.
Special thanks go to the shoreside crew: five members of the parking/meet and greet team, six members of the registration team, five members of the lifejacket team, 20 members of the shore crew team, ten members of the catering team, two on embarkation, eight on the pontoon and a first aider. We are also indebted on the water to :
Mike Waddleton and Alan Taylor in Nemo
Beth Blake & Adrian Draper Oatley in Whitewash
Giles and Catharine Whitby-Smith in Stingher
Ivan Macaulay and Mark Way in Victoria
Keith Harris and Meryel Boyd in Albatross
Richard Ramsden and Vivyan White in Cariad
John McDonnell in the Club Wayfarer
Two Drascombe Gigs from PGL, skippered by Steve Warren Smith and Dave Moore and crewed by Margaret Moore and Will Baker
Dougal from Cowes Sailability
John Douglas and the Disabled Sailing Association in Spirit of Scott Bader.
Chris Thomas on Base radio
Invited guests were from Newport Physically Handicapped Society, Cowes Physically Handicapped Society, Ventnor Physically Handicapped Society, Ryde House, Osteoporosis Support, Esplanade House, Royal Engineers, Parkinsons UK (IW branch), Hazelwood House, Isle of Wight Society for the Blind, Kingston Farmhouse, PHAB, Seagull House, Cowes Sailability, Overbrook, Saxonbury House and 21 individual families with disabled members.
We look forward to welcoming everyone next year!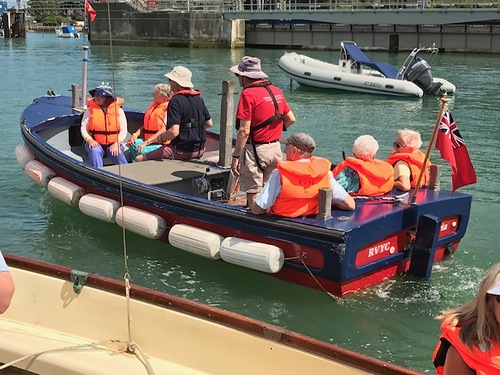 ---
Last updated 07:55 on 22 May 2018