Open Day for People with Disabilities
---
With flags fluttering on a sunny day, the Royal Victoria Yacht club in Fishbourne opened its doors on Saturday 6th July 2019 for its annual Open Day for People with Disabilities. We have a long-standing tradition of inviting people with disabilities to enjoy a day at the RVYC, dating back to 1981 when the late Betty Matthews organised the first event to mark the International Year of Disabled Persons.
This year, over 160 guests ranging in age from four to 90 enjoyed the day and managed over 60 boat trips out on The Solent. Twelve boats were used - for the thrill- seekers on fast RIBs that went to Osborne Bay, to Victoria pottering up and down Wootton Creek. The longest waiting list was for 'Spirit of Scott Bader' the Disabled Sailing Association's specialist wheelchair-carrying yacht that supports the event every year. It was a magnificent sight to see this catamaran in full sail with so many smiling faces on board.
Shore-side, guests were treated to a BBQ, tea and cakes and the burger station was a cool place to be. The tombola was as popular as always, and the table was practically cleared of wine, cakes, ornaments and toys by the end of the day
The Commodore, Steve Sheridan commented: 'It was wonderful to be able to welcome so many islanders to our club on Saturday who are not usually able to get out on the water. Our members turned out en masse to enable people of all ages and with a range of disabilities to use our facilities and enjoy sailing and motor boating on a glorious summer day. A huge amount of effort went into organising the day and we were delighted to welcome the Lord Lieutenant -Susie Sheldon; the Under Sheriff - John Matthews; Martin Gulliver from Wight link and Fishbourne Parish Councillors - Malcolm Hector, Simon Dennis and Sarah Talbot."
A quote from a participant really sums up what the day is all about:
Hello
I'm just writing to thank you for a fantastic day today. Never been anywhere where the organisation of every thing was spot on.
Zak and I had a really enjoyed ourselves, thank you all so much for making every one so welcome; nothing was too much trouble for any one.
BIG pat on the back to everyone involved for giving up your time on such a sunny day :)
Looking forward to next year.
The organising committee of Ann Capps, Rosemary Montero and Nigel Talbot were supported by over 100 volunteers onshore and the owners, skippers and crew of boats lent by members and community organisations on the water. The RVYC is indebted to event donors including Fishbourne Parish Council and the Daisy Rich Trust and support from the Andy Cassell Foundation, Disabled Sailing Association and PGL. Thanks to Wight link for parking our guests' cars and for local residents for parking the volunteers' cars. Also to Mike Dunkason for the photos .
Special thanks go to the shore-side crew: members of the parking/meet and greet team, the registration team, the lifejacket team, the shore crew team, the catering team, the embarkation crew, the pontoon team and a first aider.
We are also indebted on the water to:
Al-Batross crewed by Keith Harris and Meryl Boyd
Whitewash crewed by Beth & Tim Blake
Victoria driven by Ivan Macaulay & Mark Way
Spirit of Scott Bader with skipper John Douglas and crew
Nemo with Mike Waddleton and Richard Gammons
Con Brio crewed by Alan Colville and the Stones
Mad Hatter with Tony Pope and Jane Barrett Bellingham
Dolphin with Matt Grier and Andy Cassell Trust Volunteers
Spare Parts with Matt Grier and Andy Cassell Trust Volunteers
Gaffer with Dave and Margaret Moore
Duchess crewed by Peter Tayor with Charlotte Andrews
Rae Gun with Richard Rae and Finlay Cracknell
RVYC Patrol Boat crewed by Kev & Marney Gibson
Rob Andrews on Vic base Radio and the officer runner Ailsa Bellingham
Invited guests were from Sight for Wight ( IW Society for the Blind ), Southern Housing , Parkinson's UK, Mountbatten Young Adults, Parkinson's IOW Branch, First for Care, Milford Del, Newport Physically Disabled group , Saxonbury, Osteoporosis, Cowes PDS, PHAB, Parkinsons , Ventnor PDS and individual families with disabled members .
We look forward to welcoming everyone next year on June 6th 2020 .
---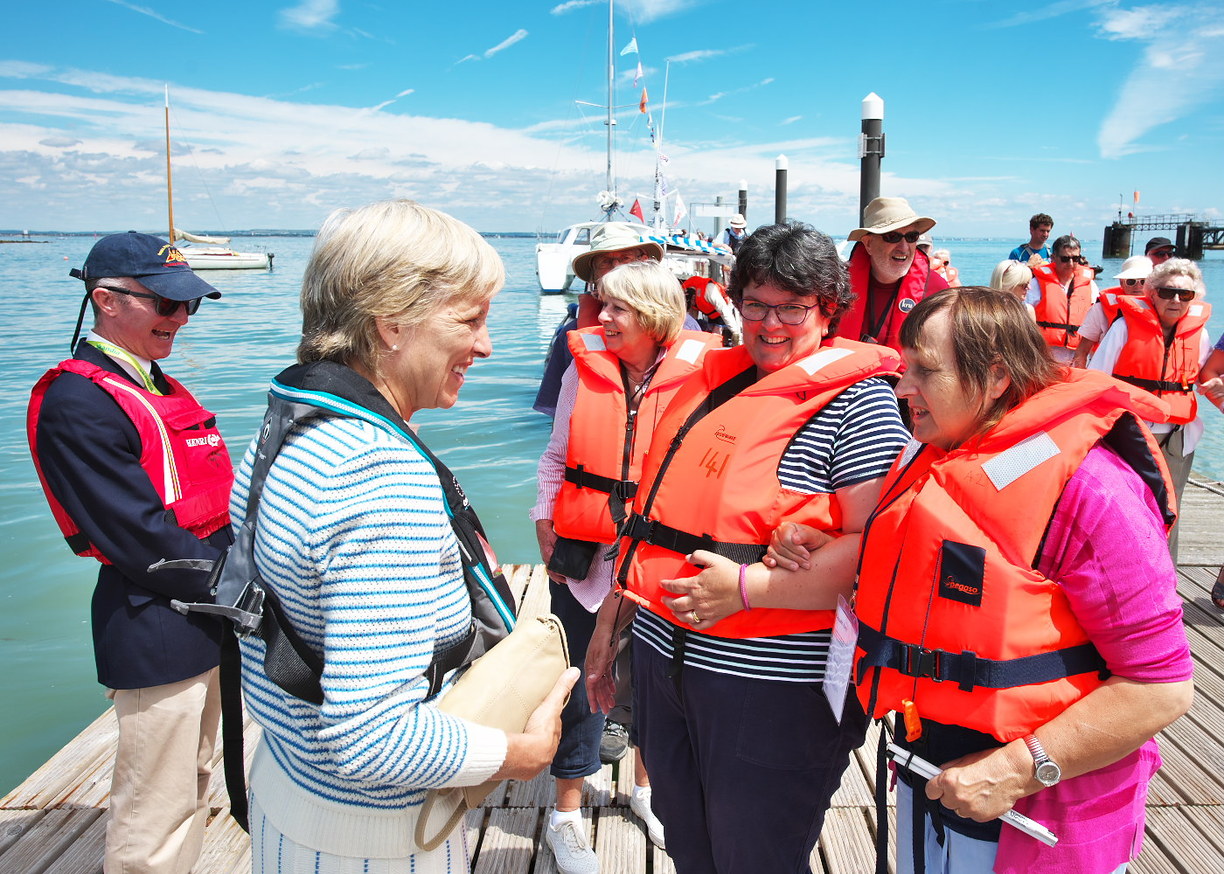 Last updated 14:37 on 29 March 2022